Space saving feature

Athena Power's 1UITX rackmounts are built to last and also built to be compact. Whether you wish to build your server with a mini-ATX or ITX motherboard this rackmount is ideal for all businesses who wish to save space.
FlexATX Series

Athena Power's FLEX ATX power supply

220W

,

250W

,

300W

and

350W

are designed for the 1U Mini-ITX chassis, like our

RM-1U122ITX

and

RM-1U102ITX

, to provide compact flexibility for mini-servers.It is 80PLUS certified and also compatible with many major systems such as HP and Dell.
80 PLUS®

80 PLUS is an innovative, electric utility-funded incentive program to integrate more energy-efficient power supplies into desktop computers and servers.

More info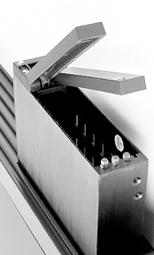 HOT-SWAP

Incorporating the HOT-Swap feature in Athena's RM-1U122ITX adds more flexbility and convenience for all server builders. This latest feature intergrates a small SATA/SAS backplane the (BP-SATA2221B) and it will reduce downtime and add easy access to your server's main HDD drives.